EXPERIENCE THE EXUMAS
IN TRUE STYLE
Interact with the famous swimming pigs, face your fears & swim with the majestic sharks, and feed native iguanas. There are a lot of companies, but not all do it right. Come aboard our custom brand-new luxury performance boat, get treated by the best staff, and get ready for an adventure of a lifetime. A portion of all proceeds goes back to helping marine life.
With any of our tours, you will meet at our dock and store front, where we have beverages and breakfast pastries. You can browse our small shop for memorabilia while you wait for boarding. Once on our luxury, brand new custom performance boat, you will experience the ultimate boating trip.
If you want a luxurious, fun, exclusive, 5-star experience look no further then Shore Thing Escapes. You will get to experience the ultimate in island hop!
Shore Thing Escapes has also partnered with the Sea The Shore Project to ensure that future generations can enjoy clean oceans. We are determined to clean our shores, oceans and help ensure that other dedications groups can continue their work within ocean conservation. A portion of all proceeds goes back to helping marine life.
Why Us
We pick you up at your hotel
We provide pastries and coffee
Snacks and beverages provided throughout the day
Beer assortment, as well as specialty cocktails are also provided
We are environmentally friendly and conscious
A portion of all proceeds go back into helping the environment and getting plastics out of the ocean
Every day Shore Thing Escapes Saves over 150 Water Bottles from going into the ocean on just one boat by providing our guests with reusable water bottles!
EXPERIENCE BAHAMAS IN ITS FULLEST
We strive to exceed all of our guest's expectations on every tour!
The Exuma Experience Tour Schedule
Pick Up 7:00a.m. in the front of Hotel/Air bnb
Boarding & Departure
Boarding begins at 7:30 AM. We know it's early, but with so much wonder and magic to see, we love to have a longer day to allow guests to see all the Bahamas has to offer. We do provide breakfast pastries, so you don't have to worry about stopping or getting up even earlier.

1
Feed Iguanas At Allen Cay
Step on the shore as we let each guest feed our native rock iguanas. Don't let their small size fool you, these little guys have quite the personality. We will provide grapes for you to give some treats to our little friends.


2
Swim With Sharks At Compass Cay
For many of our guests, they board not thinking they will do this but like most, they do! And they love it. Our graceful nurse sharks are beautiful and mysterious, but most walk away from our tour loving it just as much as the pigs!
3
Big Major Cay To Swim With The Pigs
The Main Event!
Hop ashore to hang with our world-famous pigs!! We provide food for each guest to feed our island celebrities. So, just enjoy our 4-legged friends!


4
Fresh Amazing Lunch
By now most people have worked up quite the appetite. Enjoy a fulfilling fresh amazing lunch at Black Point where we have a fresh authentic Bahamian lunch with the most surreal breath taking view right on the water.


Black Point
Get those Instagram worthy pictures jumping off our infamous dock at Black Point. The water is crystal clean. The backdrop is beautiful and the time is fun.



5
Plane Crash
Normans Cay to snorkel the infamous Pablo Escobar plan crash or another beautiful snorkel spot.




6
Sand Bar or Beach
Enjoy an hour of relaxation at the beautiful Exuma sandbar or a hidden private beach.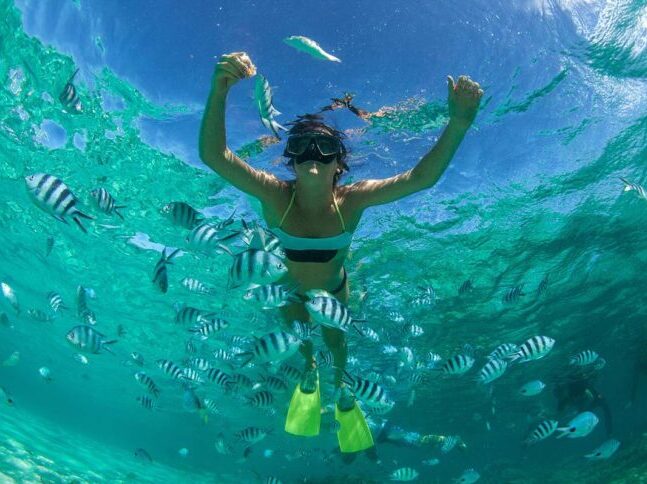 7
Reef Snorkel
Our final stop is at the beautiful reef where you can spend your time snorkeling and exploring the reef.




4:30 PM
Arrive Back In Nassau
Once we dock home, you can purchase any souvenir at the office (tshirts, keychains etc.) Make sure to let your captain know anything you are interested in, so we can be sure to have it ready at the dock.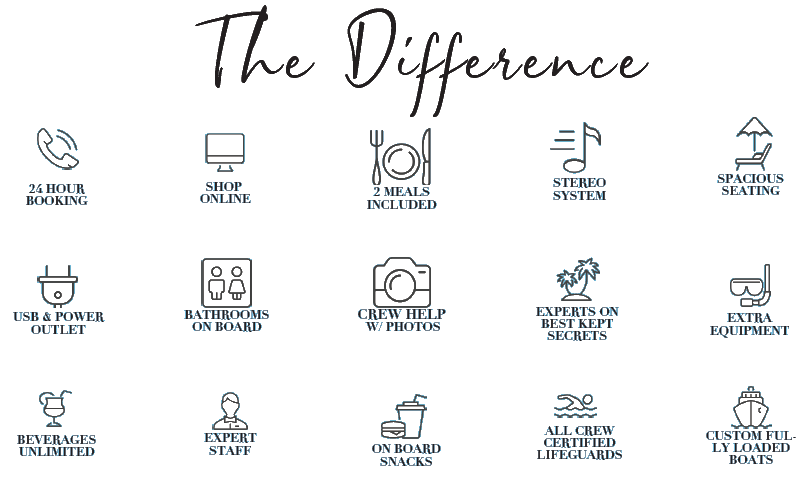 SHORE THING ESCAPES STATES THAT THE COMPANY IS BUILT ON CUSTOMER SERVICE, AND THEY 100% LIVE UP TO THAT EXPECTATION! THEY ARE THE NICEST PEOPLE AND ENSURE YOU HAVE AN INCREDIBLE TIME! I HIGHLY RECOMMEND TAKING PART IN THE ULTIMATE EXUMA EXPERIENCE AS IT WAS THE HIGHLIGHT OF OUR TRIP. THIS COMPANY KNOWS HOW TO RUN A BUSINESS. I HIGHLY RECOMMEND USING THEM!
WE BOOKED SHORE THINGS ESCAPES THROUGH THE RECOMMENDATION OF OUR CONCIERGE AT THE FOUR SEASON OCEAN CLUB, AND NEEDLESS TO SAY, WE WERE NOT DISAPPOINTED. WE INITIALLY ASSUMED WE WERE GOING ON THE USUAL "COOKIE-CUTTER", SWIM WITH THE PIGS' EXCURSION, BUT INSTEAD, WE WERE TREATED TO A DAY (8:00 AM TO 4:00 PM) OF GREAT MUSIC, GREAT FUN, AND GREAT EXPERIENCES.
WE LOVED THIS EXCURSION! WE WANTED TO VISIT THE SWIMMING PIGS FOR YEARS, AND THIS WAS ABSOLUTELY THE BEST TOUR COMPANY TO TAKE US THERE! THE GUYS WERE ON TOP OF EVERYTHING, MAKING SURE WE HAD FUN AND FELT SAFE. WE HAD TWO LITTLE BOYS WITH US AND THEY ALSO HAD A BLAST. I'D ABSOLUTELY RECOMMEND THEM!
EXPERIENCE BAHAMAS IN ITS FULLEST
We strive to exceed all of our guest's expectations on every tour!